Are you finding it difficult to manage your business's IT on the budget you have? Then, look no further because IT service providers are the answer. Many businesses are making the switch to an outsourced IT service provider because they not only focus on IT concerns and help employees to perform better in the workplace, but they also do it all within a budget you can afford. So, how do businesses in Vancouver, Oregon find the right service provider for them?
Well, we've made it easy by compiling a list of the top-rated IT support providers in Vancouver, Oregon to help you find the perfect fit for your business.
Exceed PC's team of experts boast 15 years of experience running, maintaining, and repairing a variety of operating systems including Windows, Linux, and Mac. They are dedicated to offering an unmatched level of both onsite and remote IT support to Vancouver businesses by offering tailored and flexible support solutions to their clients. Their support services are well-known for being reliable, fast and hassle-free. Their general services include business IT Support, onsite and remote support, computer repair, and managed services.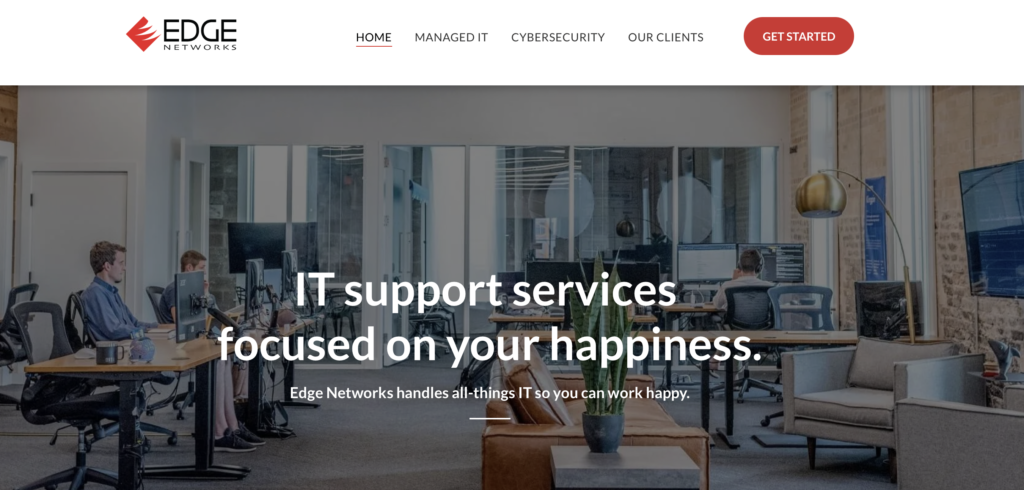 Edge Networks defines itself as providing IT support services focused on their clients' happiness. By becoming a technical part of your team, Edge Networks' promises lightning-fast resolution to technical problems – many times, even before clients realize there is a problem. With a fixed monthly fee, Edge Networks also helps clients avoid long-term contracts in the bid to create a kinder, fairer model for delivering IT support.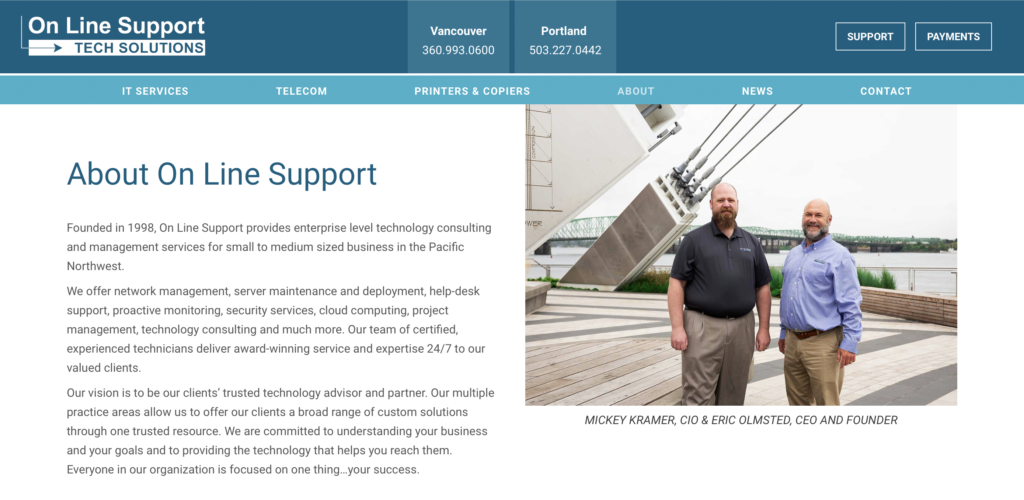 Founded in 1998, On Line Support Tech Solutions provides enterprise-level technology consulting and management services for small and medium-sized businesses. To fulfil their vision of being their clients' trusted technology partners, they offer a broad range of custom solutions through one platform with a team of certified, experienced technicians who deliver award-winning service and expertise 24/7 to their clients.
Owned by a local Pacific SW WA native, Pacific Northwest Computers provides competent reliable support to local businesses in Vancouver. With more than 20 years of experience, they offer affordable computer repair services in Vancouver and environs, as well as remote IT support using their easily accessible custom module. They also offer a broad range of services ranging from system configuration to SEO projects.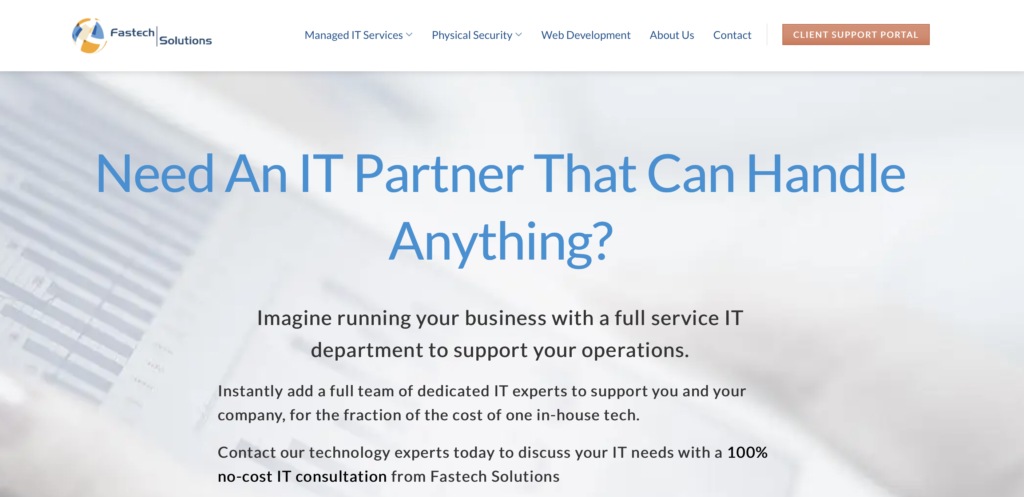 Headquartered in Vancouver, Washington, Fastech Solutions brings over 10 years of experience as a full-service IT service provider and digital marketing agency providing support to local businesses. They aim to build a relationship that transcends hardware and software purchases, focusing on the entire technology lifecycle with a range of support services to help with the planning, deployment and operation of business technology.
ITPRO aim to bridge the gap between IT and business, ensuring that the IT strategy meets the ever changing business requirements. This means they are placed to help small businesses mitigate the risks associated with IT, while maximizing the benefits that new technology can bring. They do this by taking time to understand the business, applying business process modelling techniques and then understanding what the users need from their IT systems.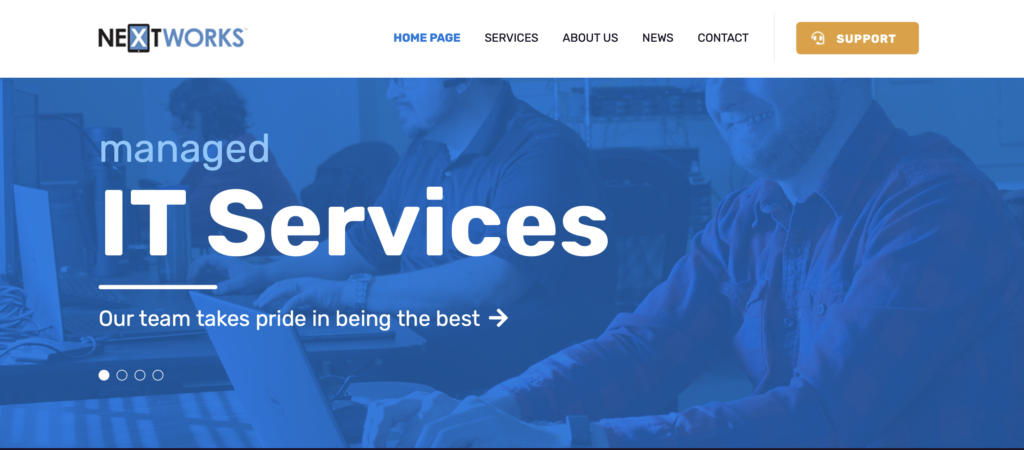 Nextworks' accomplished team of IT professionals promises to deliver a wealth of technical knowledge and experience to their clients. With a technical team focused on reducing downtime and increasing productivity, Nextworks aims to use best IT best practices to deploy and manage clients' systems using time-tested procedures. Their spectrum of IT support services range from systems repair to reliable backups.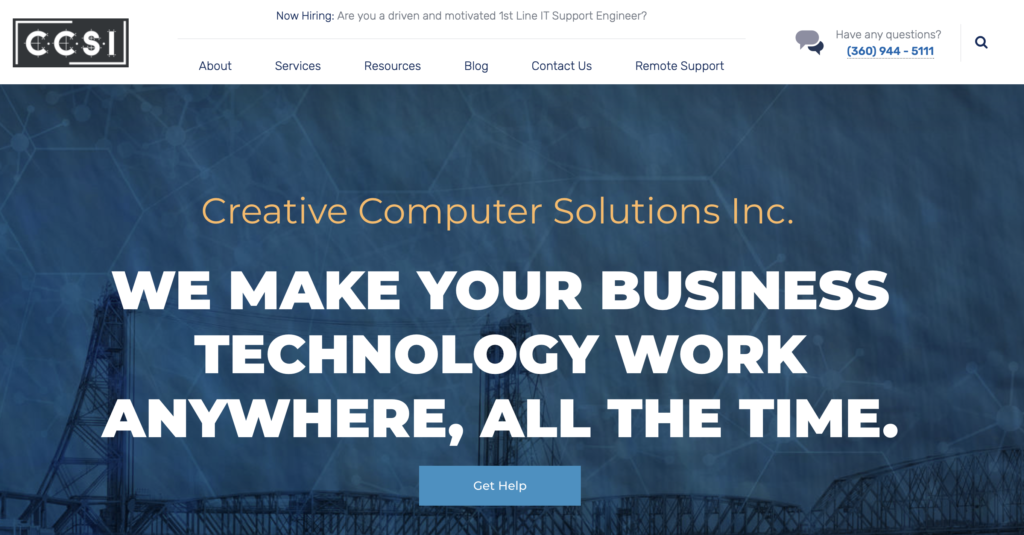 CCSI was founded in October 1998 to address the costly technology challenges faced by small businesses. CCSI aims to make it possible for local businesses to have access to world-class IT at any time. By offering their services as a guide to help local businesses navigate the ever-changing technology landscape, they help to manage the technical needs of the business ensuring that business owners are able to focus on the strategic tasks of the business.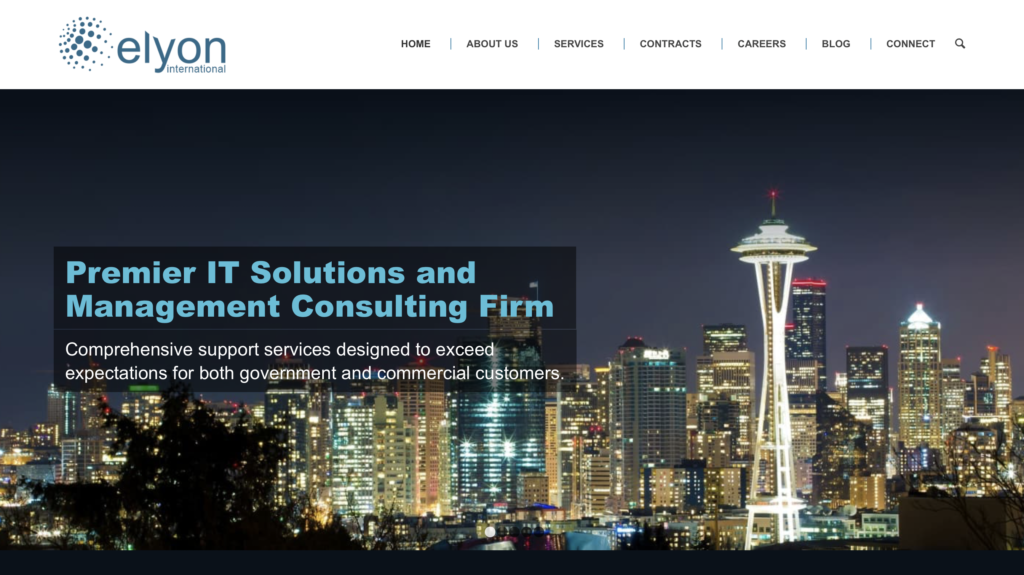 Elyon provides the technical expertise required by their clients to successfully execute and implement their IT directives. They strive to understand their clients' needs, proactively supporting organizations at every level while serving a variety of industry types. Their IT specialists boast of the foundation, experience, and expertise to ensure the success of any project for both the public and private sectors alike.
Securus recognizes the importance of reducing IT downtime in maximizing business profitability. To this end, they offer comprehensive IT support to local small and mid-sized businesses in the Vancouver area. Their IT support packages are customized to fit the unique hardware requirements of the business, with IT specialists who possess the required expertise to accurately troubleshoot technical problems of all kinds.